Roll over image to zoom in
1. Overview:
The MP3 module is a common sound module that can be used to play various animal's sound effects, mechanical sound effects, and songs. Combining the robot's actions, light effects with this module, all kinds of applications will be vividly displayed. The module supports two modes. APP mode: Users can use the APP to play various sound effects, songs, and recording files in real-time. TF Mode: Plays songs in the extended SD card.

2.Specification:
a) Operating voltage: DC 5V
b) Working temperature: -20°C-70°C
c) Working current: 300mA
d) Working mode: APP Bluetooth mode; TF card mode
e) Size: 58 x 43 x 28 mm (length x width x height)

3. Features:
a) Onboard blue LED indicator for Bluetooth connection feedback.
b) High-definition speakers, playing various audio effects in real-time.
c)App supports dynamically play various audio effects, recordings, and SD expansion card audio files.
d) Support Arduino IDE programming, and provide runtime to simplify programming.
e) Support Robobloq graphical programming for all ages.
f) The on-board gold-immersed M4 mounting holes are easy to install and use the RJ11 interface for convenient connection.
4. MP3 Module Project: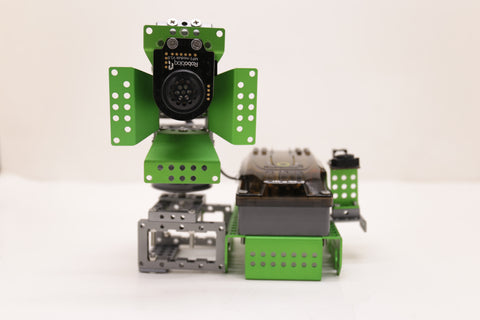 This vintage record player looking robot is composed of Q-scout, a color sensor to receive the command, and the MP3 module to play the music, inside the MP3 module there is a chipset that can store the music that later will be played.
How does color sensor work with the MP3 module?
Well, time to turn on this record-player and listen to some music.
Payment & Security
Your payment information is processed securely. We do not store credit card details nor have access to your credit card information.